Toll Free 800-967-1762 • Direct 507-283-4416
FAX 507-283-4417
Operation Instructions (Model RV 1200)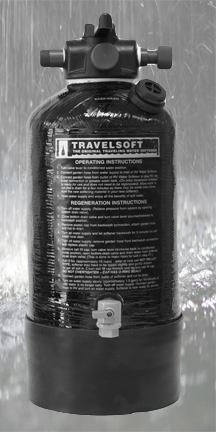 1
Turn valve lever to conditioned water position (Figure #1)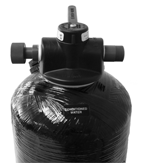 RV 1200HD
RV 2400HD

RV 3200HD

Capacity
10,000 grains
24,000 grains
32,000 grains
Tank Size
8" x 17"
10" x 30"
10" x 40"
Overall Height
20¼"
37"
47"
Resin Capacity
.33 cu. ft.
.75 cu. ft.
1.0 cu. ft.
Inlet & Outlet

¾" G.H.

¾" G.H.

¾" G.H.

Specifications:
Weight

(empty of water)

31 lbs.
70 lbs.
70 lbs.
2
Connect garden hose from water supply to inlet of RV Water Softener.
3
Connect garden hose from outlet of RV Water Softener to your RV city water connection or portable water tank. (On initial installation softener is ready for use and does not need to be regenerated. Allow water to run into a drain for a few minutes as there may be some color throw from the new softening material in your new softener.)
4
Open water supply and enjoy all the benefits of soft water. *Turn handle to the bypass position (figure #2) to have non-softened water. For example, when you water the lawn, you do not want to waste softened water.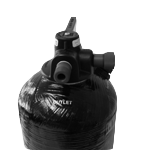 When to Regenerate RV Softener...
Check water inside your RV or at the outlet side of the RV Softener with the test strips supplied. If water tests more than 3 grains hard (50ppm) it is time to regenerate the RV Softener following the instructions on the next page, download the PDF, or watch the Regeneration video.
Fig #1
Fig #2